SceneMax VLC Full Versionopen source video player program utility software
Upgrade to the full version
The full version of the SceneMax VLC video program is available on an annual license. The license costs £10 plus vat for one year (365 days). When you have installed the trial version and evaluated the program, you may upgrade your license. To do this complete the form below. We will reply to you by email with further information and payment instructions.

Please note you will need the License Number from your trial installation. This is displayed on the "About SceneMax VLC" screen accessed from the Help -> About menu (screenshot shown at the bottom of this page).
Complete the form
We are pleased you want to upgrade to the full version license for SceneMax VLC video software. Complete the form below and we will get back to you with further information, and instructions for payment by credit /debit card or Paypal.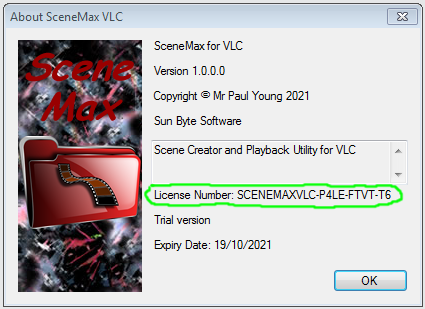 SceneMax VLC program introduction
Android version now available - watch demo video